Are Affordable Wedding Rings Right for You?
Wedding Rings Are Usually Super Expensive
Have any of you lovebirds looked at the prices for wedding and engagement rings these days? If you're anything like me, you're probably surprised at how expensive these traditional wedding rings cost. In fact, the average price of an engagement ring was roughly $6000 in 2017, up from $5000 in 2011 (The Knot). 
Now don't get me wrong, it's not a crime to spend this much on true love right? Definitely not! The important question to ask is:
Do you think traditional diamond jewelry has any significant value to your relationship?
If you answered yes, then you can stop reading right now and just be like this guy. 👇👇👇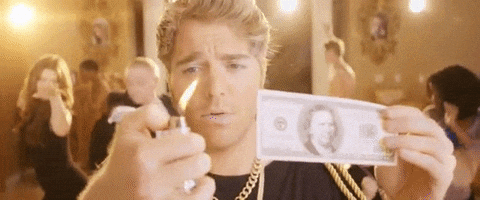 If you answered no, or if you're not sure, then keep reading! After all, love doesn't have a price tag on it… So why should anyone feel like they need to spend a fortune on wedding rings?
Wedding Rings Don't Have to Cost a Fortune
Society has conditioned couples into thinking traditional diamond rings are the only way to go. Sure, that could be true for some, but definitely not the case for every couple. In fact, affordable engagement and wedding rings are already becoming more popular among millennials and younger generations.
This shouldn't be much of a surprise when you consider how the dynamic of marriages have changed in the last 60 years. A typical marriage in the 1950's followed a fairly traditional standard: a working husband and stay-at-home wife.
An expensive wedding ring may have signified "true love" in the past, but that certainly isn't the case in today's society.
Today, marriages are more of a partnership, with both people working and contributing. With these traditional roles shifting toward a more modern approach, it is safe to say that other marriage-related traditions are also moving toward a more contemporary way of thinking.
Affordable Wedding Ring Options
If you're interested in an affordable engagement or wedding ring, there are plenty of options available on the market now!  There has been a huge demand for different style stones like pearls, sapphires, and other high grade CZ diamond simulants for all the ladies. Plus there are a good number of options that use these stones in 925 sterling silver settings. This is the material used in traditional diamond rings (without the diamonds) but at a fraction of the cost. It's definitely possible to find a wedding ring that looks beautiful and is easy on your wallet.
Don't worry fellas, there are a bunch of economical engagement ring options out there as well. Thanks to new metals like tungsten and titanium, the options are endless! Not only are these metals cheaper, but they are also more durable and overall stronger than traditional metals like gold and white gold.
 So what exactly do people love about traditional jewelry?
If you're still unsure of how to answer that question, then maybe traditional jewelry isn't for you. Check out some of these affordable engagement and wedding ring styles out for yourself, you could save yourself thousands of dollars in long run! 
So there you have it! If you're looking to save some money on wedding rings too, feel free to check out our collection of affordable wedding and engagement rings! We offer free shipping in the USA from California, hassle free returns and exchanges, and a 100% satisfaction guarantee.
Check Out Our Rings

📝 Post Author: Jesse S.